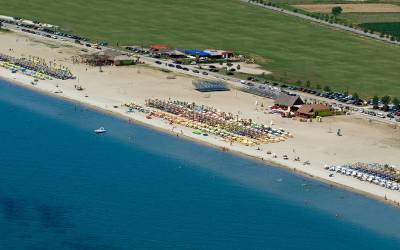 Paralia (Greek: Παραλία) is a tourist seaside village and a former municipality in the eastern part of the Pieria regional unit, Greece. Since the 2011 local government reform it is part of the municipality Katerini, of which it is a municipal unit. The seat of the municipality was in Kallithea. Paralia is situated on the west coast of the Thermaic Gulf. It lies 2 km east of Kallithea, 5 km south of Korinos and 8 km east of Katerini. Motorway 1 and the Piraeus–Platy railway (nearest station at Katerini) pass west of the village.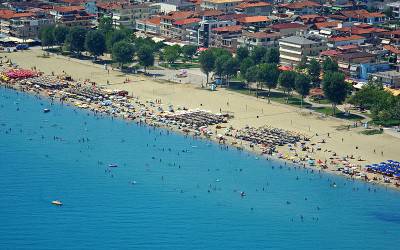 Olympiaki Akti (Greek: Ολυμπιακή Ακτή), or Olympic Beach, is a resort town in the eastern part of the regional unit of Pieria in Greece. Its beach is part of the Olympian Riviera. The Thermian Gulf is situated to the east. The entire coastline is sand. The town is located 2 km S of Paralia, 5 km E of Katerini, SE of Veria, 70 km S of Thessaloniki and the Makedonia International Airport, N of Larissa, NNW of Athens, NE of Tyrnavos, NE of Mount Olympus.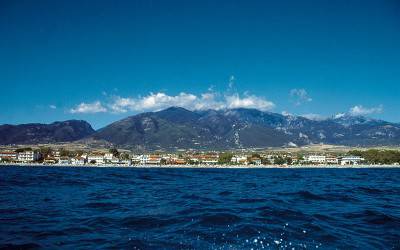 (Greek: Λεπτοκαρυά) is a town in Pieria regional unit, Central Macedonia, Greece, former seat of East Olympos municipality, which is part of the municipality of Dio-Olympos. The distance from Katerini is 26 km. Lies on the coast of Aegean Sea, under the Mount Olympos. It is located near ancient Livithra, allegedly the home of Orpheus, major figure in the Greek Mythology. Since the major events and customs in the town is the revival of division of Orpheus.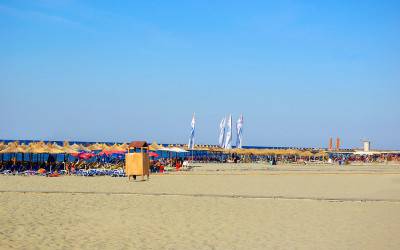 (Greek: Νέοι Πόροι) is a coastal village of the Dio-Olympos municipality. Before the 2011 local government reform it was part of the municipality of East Olympos, of which it was a municipal district. The settlement of Neoi Poroi had a population of 733 inhabitants as of 2011. Neoi Poroi is a part of the community of Poroi. The main occupation in the village is tourism. A model development plan, has huge streets and squares. The village is located on the southernmost coast of Pieria, near the traditional village of "Παλαιοί Πόροι", Paleoi Poroi and the vast and scenic wetlands in the northern part of Pinios.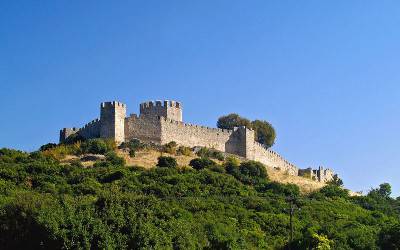 (Greek: Πλαταμώνας – Platamonas) is a town and sea-side resort in south Pieria, Central Macedonia, Greece. Platamon has a population of about 2,000 permanent inhabitants. It is part of the Municipal unit of East Olympos of the Dio-Olympos municipality. The ancient settlement Herakleion was situated near the present town Platamon. Its most famous landmark is the 12th century Byzantine Castle of Platamon, built strategically along the main road from Thessaly to Macedoniathrough the Vale of Tempe. Platamon is situated on the Aegean Sea coast, 25 km southeast of Mount Olympus. Adjacent beach towns are Neoi Poroi to the southeast and Neos Panteleimonas to the northwest. It is 33 km south of Katerini and 43 km northeast of Larissa.